Vegetable Samosa
crispy pastry stuffed with potatoes, peas & spices. (2) vegan
PAPADUM
crispy lentil wafers (gluten free & dairy free)
Pakora
mixed fritters served with homemade mint & tamarind chutney (gluten free & dairy free)
Samosa Chat
somosas topped with sautéed garlic chickpeas, tamarind, mint chutney & yogurt
RASILA
sliced juicy lamb pan fried & sautéed with black pepper, bell peppers & onions (gluten free & dairy free)
Cauli Manchurian
cauliflower sautéed in manchurian zesty tomato sauce (gluten free & dairy free)
Garlic Shrimp
Marinated shrimp sauteed in a garlic & green pepper glaze (GF - DF)
Tandoori Chicken Wings
marinated chicken wings fire cooked in tandoori oven served spicy or regular (gf)
1/2 Order Saag
Punjabi style spinach chopped finely & cooked in a garlic, onion, tomato & cream base (gf)
Tikka Masala
popular masala dish fresh curry made of tomatos, onions, cream then combined with meats smoked in the tandoori clay oven (gf)
KORMA
a mild gravy dish made out of nuts, cream, and delicate spice (gf)
Saag
Punjabi style spinach chopped finely & cooked in a garlic, onion, tomato & cream base (gf)
VINDALOO
spicy and tangy curry spiced with classic spices with potatoes, garlic, chillies & meat (dairy free & gluten free)
Chettinad
south Indian Kerala style curry cooked with coconut milk, curry leaves and spices (dairy free - gluten free - vegan)
Indian Curry
savory spices like cumin, turmeric & bay leaf give the classic Indian curry a deep earthy flavor while sweet spices like cinnamon and clove add brightness and pep (Gluten free & Dairy free)
Indian Karahi
Traditional curry from northern region with spicy taste; cumin, turmeric, and bay leaf combined with bell pepper, onions & tomato (gluten free, dairy free)
MALABAR
Famous malabari curry cooked with onion, garlic, mustard seeds, turmeric and coconut milk. (Dairy Free, Gluten Free)
Chana Masala
a popular street food, chickpeas spiced in an onion tomato gravy with coriander (gluten free - vegan)
Kofta Keshari
vegetable cutlets made with cheese & mashed potato, cooked in creamy masala sauce (gluten free)
Baigan Bharta
tandoori roasted eggplant with green peas cooked in tomato, onion, ginger and garlic sauces (gf) (vegan available)
Mataar Paneer
fresh peas and farmers cheese slow cooked in a creamy tomato curry (gf)
Aloo Gobi
cauliflower & potatoes cooked with exotic punjabi spices, ginger & garlic (dairy free, gluten free, vegan)
Daal Tadka
slow simmered yellow lentil with smoked exotic house glaze (dairy free, gluten free, vegan)
Daal Makhani
creamy black lentil slow smoked and simmered with exotic house glaze (gluten free) (vegan available)
Daal Saag
lentil & spinach cooked in house spices (gf)
Aloo Zeera
delicious curry fried potato with coriander & cumin (dairy free – gluten free – vegan)
Bhindi Amchoor
Okra, onion & green bell peppers with pickled mango (gluten free, dairy free, vegan)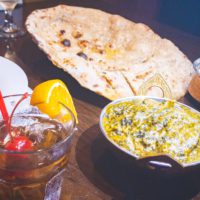 Roti (Whole wheat)
Whole wheat roti
Paratha (Whole wheat)
Whole wheat multi-layered tandoori paratha
Garlic Naan
coated with garlic & cilantro on top
Onion Naan
Stuffed with onions & coated with butter
Garlic Cheese Naan
Stuffed with garlic, cheese & cilantro
Alu Naan (Potato)
Stuffed with garlic, cheese & cilantro
Kabuli Naan
Kabuli NAAN (baked stuffed with ground Cherries, Raisins & Cashews)
Coconut Naan
stuffed with shredded coconut
Cheese Naan
Cheese stuffed
Himalayan Sweet Orange Chicken (Gluten Free)
chikpea battered boneless chicken deep fried than cooked with sweet Himalayan orange sauce. (Dairy free & Gluten Free)
Himalayan Chilli Chicken (Gluten Free)
chikpea battered boneless chicken deep fried then sautéed with roasted bell pepper, onion, garlic & spicy Himalayan chilis. (Dairy free & Gluten Free)
Aam (Mango) Curry
Fruity mango curry made with, roasted garlic, ginger & tomato. (Dairy Free & Gluten Free)
TANDOORI KITCHEN KEBOBS
all kebabs are marinated in a special turmeric garlic, ginger, garlic house seasoning then grilled & smoked in a traditional tandoori clay oven; served on a bell pepper & zucchini bed with rice (gf)
Momos
famous homemade dumplings originating from Himalayan region (df)
Chow Mein
large plate of rice noodles sautéed with selective spices & fresh vegetables (Dairy free, gluten free)
Thukpa
large bowl of dairy free noodles & fresh vegetables in a flavorful Himalayan broth (dairy free, gluten free)
Himalayan Sweet Orange Chicken (Gluten Free)
chikpea battered boneless chicken deep fried than cooked with sweet Himalayan orange sauce. (Dairy free & Gluten Free)
Himalayan Chilli Chicken (Gluten Free)
chikpea battered boneless chicken deep fried then sautéed with roasted bell pepper, onion, garlic & spicy Himalayan chilis. (Dairy free & Gluten Free)
Yeti Stew (LAFAYETI DAY 2021 )
Rogan Josh
signature kashmir curry dish flavored with garlic, ginger and aromatic spices (cloves, bay leaves, cardamom, and cinnamon) (gluten free)
Makhani
makhani is a slightly sweet creamy dish, in which the gravy is prepared usually with butter, tomatoes, cashews or cream. Spices such as red chili powder and garam masala are also used to prepare this gravy. (gf)
BIRYANI
medium spiced, cooked with basmati rice, saffron, biryani spices and floral waters; served with raita (dairy free/gluten free)
Mango Lassi
delicious yogurt smoothie made with ripe mangos
Chai
Hot masala chai brewed with whole ingredients
Masala Chai Concentrate (64oz)
natural ingredients and hand-ground spices, our concentrate provides an easy, quick and clean method for preparing chai latte with uncompromising quality.
Iced Chai
Made using only natural ingredients. Hand-ground spices –which include black cardamom, green cardamom, cinnamon, cloves, coriander seeds, black pepper and star anise–, fresh ginger, real cane sugar and mineral water.
Gulab Jamun (3pcs)
Gulab jamun is a classic Indian sweet made with milk solids, sugar, rose syrup & cardamom powder 3 pcs
Kheer
Kheer is a rice pudding, made by boiling milk and sugar with rice. It is flavored with cardamom.
Mango Chutney (Sweet)
Sweet mango chutney (8oz)
Mango Pickle (Achar)
spicy pickled mangos
Raita
yogurt sauce with cucumber, carrot and other mild spices. gluten free (8oz)
1/2 Order Saag
Punjabi style spinach chopped finely & cooked in a garlic, onion, tomato & cream base (gf)
Daal Soup
lentil soup made with Himalayan spices (Gluten free, Dairy Free, Vegan)
Chicken Soup
Himalayan soup made added Himalayan spices (gluten free, dairy free)
Tomato Coconut Soup
Fresh soup made with tomatoes, coconut milk, black pepper & curry leafs (gluten free, dairy free, vegan)
Green Salad
Spring mix, tomato, cucumber, carrot & lime juice. served with raita (raita is not vegan) on side (gluten free, dairy free, vegan)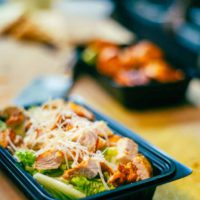 Tandoori Chicken Caesar Salad
fresh grilled tandoori chicken breast, romaine lettuce, parmesan cheese & caesar dressing (on the side) (gf)